How To Pack A Computer For Moving
Relocating to a new home is never an easy task to do. It takes a lot of time to pack and move, and it might also require you to hire professional movers to save effort. Moving can also be a hassle when you are dealing with a deadline, or you're doing the moving alone. If you want to make your moving process less stressful, read this guide to get excellent tips!
This is not the only issue that you will need to deal with when you move to a new home, though. From packing your clothes to figuring out how to move a bed, there are just so many things that you have to worry about.
However, one thing that most people do not realise is how difficult moving electronic gadgets like computer desktops, computer monitors and computer towers can be. After all, with its sensitive and fragile parts, you will need to take a lot of precautions to make sure they are transported as safely as possible.
With that, we give you the best way on how to pack a computer for moving!
Before Anything Else. Back-up Important Data And Files From Your Computer
This step is vital to ensure that you may still access the information stored in your computer in case your desktop computer breaks down. To backup your files, you may transfer all of it to an external hard drive or upload it to the cloud.
Prepare Your Packing Supplies
Once you have backed up your files, you may begin preparing all the packing supplies you will need. Here they are:
Cardboard Boxes
If you still have the original box of your computer, you won't need to fret about getting a new box because this will do! However, make sure that your box is still sturdy enough to carry and protect your computer. Meanwhile, if you have lost the original cardboard box, grab some new thick cardboard boxes that will fit for your computer. You may also source for free boxes around your neighbourhood.
Read about the importance of using corrugated cardboard boxes here.
Bubble Wrap And Packing Paper
These two essential materials will efficiently protect your computer during the relocation. If you don't have this at home, you can get it at your local office supply store, moving company, or online.
The bubble wrap and the packing paper will keep your computer and peripheral devices protected from scratches or dents.
Packing Tape
When you wrap your computer inside the box, the packing tape will not only conceal the gaps, but it will also help in strengthening the edges of your box.
Styrofoam Inserts / Alternative Cushioning
The styrofoam inserts are included in the original cardboard box of your computer set up. If you still have this, packing your computer will be made easier!
If you have already discarded the styrofoam inserts, it is best to find alternative cushioning materials that are soft enough to absorb the vibrations of the vehicle while on the road. Some examples of alternatives for styrofoam inserts can be anti-static packing peanuts, old clothes, or socks.
Once you are aware of the two steps above, you can now go forward and read our moving and packing tips for your computer!
How To Pack Up Your Computer

Below are several step-by-step guides which you may use to pack your desktop computer, laptop computer, and any peripheral items you may have.
Guide To Packing A Computer Tower When Moving
1. Find an appropriately-sized cardboard box. Fill it up with a few layers of bubble wrap to serve as the initial cushion.
2. Wrap the entire midsection of the computer tower with bubble wrap. This will absorb any vibrations and sudden movements your computer may encounter while in transit.
3. Cover the bubble-wrapped computer tower with a large packing paper and secure the edges with tape so it won't open.
4. For extra protection, you may add another layer of bubble wrap to the mid-section of the tower to make sure it does not get damaged.
5. Carefully place the wrapped computer tower in the box.
6. Once you have placed the tower in the box, fill it up with cushioning material (e.g., old clothes, crumpled pieces of newspaper, or anti-static packing peanuts). Make sure to fill any and all gaps in the box.
7. Finally, you can now seal the box shut and label it as COMPUTER TOWER, FRAGILE.
Compare Man with Van Companies Quotes
Get quotes quickly and easily from a removals near you.
Guide To Packing A Computer Monitor When Moving
1. If the stand of your computer monitor is removable, detach it and pack it separately with packing paper and a bubble wrap.
2. Cover the computer monitor with several sheets of packing paper cautiously.
3. Make sure to protect the screen since it is the most fragile and delicate part of your computer monitor. To secure the screen area, cut out a thick piece of cardboard to the measurement of the entire screen and tape it over the screen covered in packing paper.
4. Next, get a sheet of bubble wrap and place it on the screen over the cardboard, and seal it with tape.
5. You can now carry the shielded computer monitor into the right size cardboard box. Once it's in the box, fill up the empty spaces with cushioning materials just like what you did with your computer tower.
6. After you pack your computer monitor for moving, seal it tightly with tape and label the box as COMPUTER MONITOR, FRAGILE.
Guide To Packing Peripheral Computer Devices For Moving
1. Initially wrap your peripheral devices individually with soft packing paper first, then bubble wrap to avoid any dents, scratches, and remnants of tape or glue on its surface.
2. After, you can now place them in a box, which you may then seal tightly.
As an alternative, you can always use the original cardboard boxes of your peripheral devices since it offers the best way to move and secure them!
Guide To Packing A Laptop Computer For Moving

As you move to your new home with your laptop, one convenient way is to use your laptop bag. All you need to do is insert your laptop and other devices. Make sure to fold the ac adapter and power cords and secure it with a rubber band before placing it in the laptop bag.
If you don't have a laptop bag, wrap the entire laptop computer with packing paper, and bubble wrap before you put it inside your suitcase, or moving box.
Now that you know how to move a computer for moving, you can now quickly move to your new home with no worries of forgetting or damaging your computer.
Planning To Pack Your Entire Home Office?
Here are nine home office packing tips to help make the task a little less daunting:
Tip #01: Sort Your Files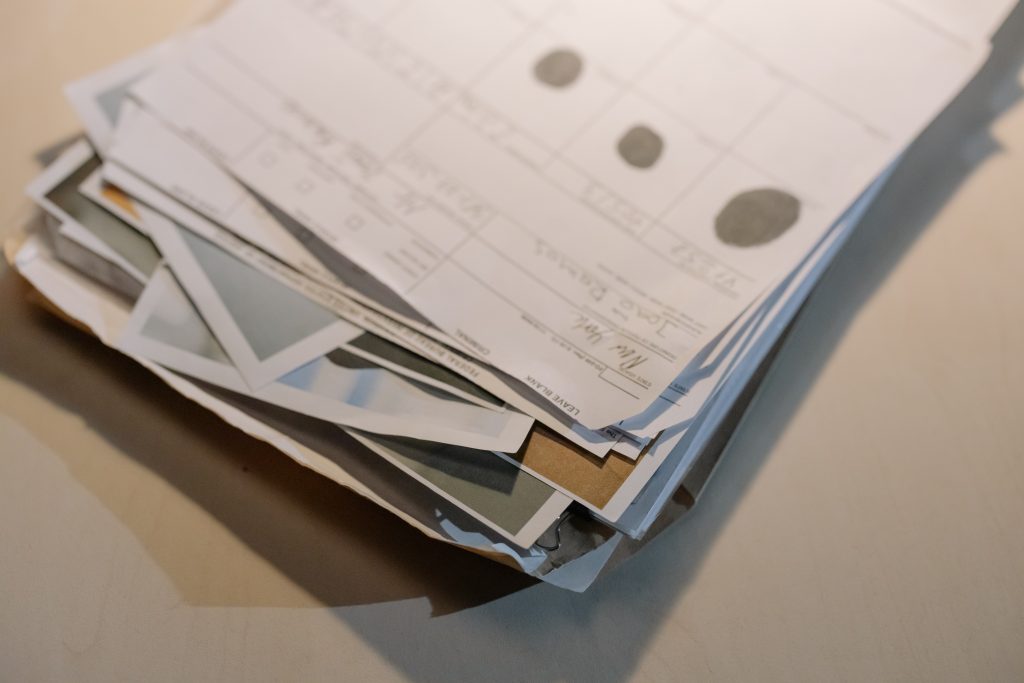 The first step is to sort through your files and decide what needs to be kept and what can be thrown away. It's best not to try and pack everything away into boxes, as you will end up with a lot of extra work when it comes time to unpack! Try to keep only the files you need in the short term and put the rest into storage. If you have file cabinets at home,
As for important documents such as your birth certificate and passport, make sure you keep them in a safe place where they won't get damaged. You may also want to scan these documents and store them on your computer or in the cloud so that you still have access to them if something happens to the originals.
Tip #02: Disassemble Your Office Furniture
If you can, you should start disassembling your office furniture. This will make it easier to transport and more secure when moving house, so don't be afraid of taking things apart!
If any parts of the item are broken or missing, now is a great time to get replacements before reassembly. You can save money by buying these items yourself, but if you think it will be not worth repairing, then this would be the perfect time to donate or sell the furniture.
Tip #03: Pack Your Belongings Properly
Now it's time to start packing up your belongings! Make sure you pack them properly so that they don't get damaged in transit. Ensure items are positioned and appropriately stacked inside the boxes to ensure they don't move around. Moreover, you will want to ensure that the box is secure, so don't be afraid to use plenty of tape.
Another thing to think about is the weight of each package. You want to make sure that you can lift and move it without assistance, so keep this in mind when determining what items and how much of them you will be packing in a particular box.
Pack heavier items on the bottom of the box and lighter items on top. This will help keep everything stable during transport. You will also want to pack books and other heavy items separately so that they don't damage lighter items.
Tip #04: Wrap Glass, Mirrors, Electronics, and Other Office Equipment in Protective Covering
It's essential to protect your fragile items during transit, so make sure you wrap any glass or mirrors in bubble wrap and use protective covering for your electronics. This will help keep them safe from any bumps or falls during the move. Moreover, it will help protect them from any potential damage if exposed to the elements.
Make use of various packing materials such as bubble wrap, packing paper, and foam peanuts to help keep your belongings safe. You may also use blankets, towels, and linen to help protect the items in your home office.
Tip #05: Make Use Of High-Quality Packing Materials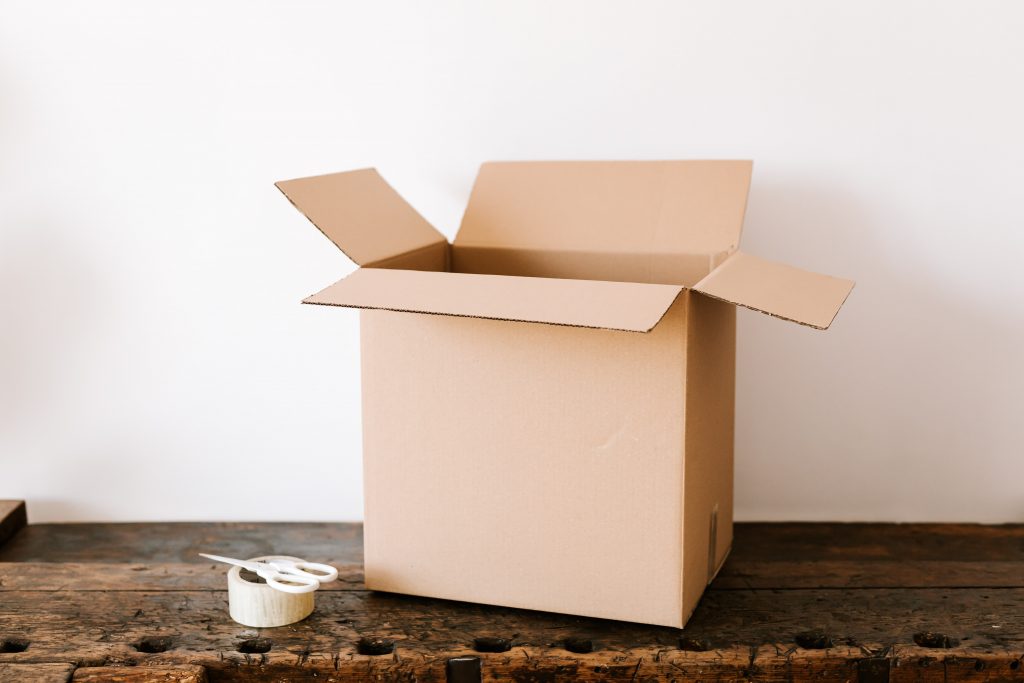 If you are transporting any electronic equipment or files, it's best to use a sturdy moving box. This will help to prevent them from being damaged during the move.
High-quality cardboard boxes will be much more expensive than flimsier ones, but it also means that you can ensure the safety of your belongings. The same goes for other packing materials such as packing tape, bubble wrap, and packing peanuts.
Tip #06: Label Your Boxes And Stack Them Neatly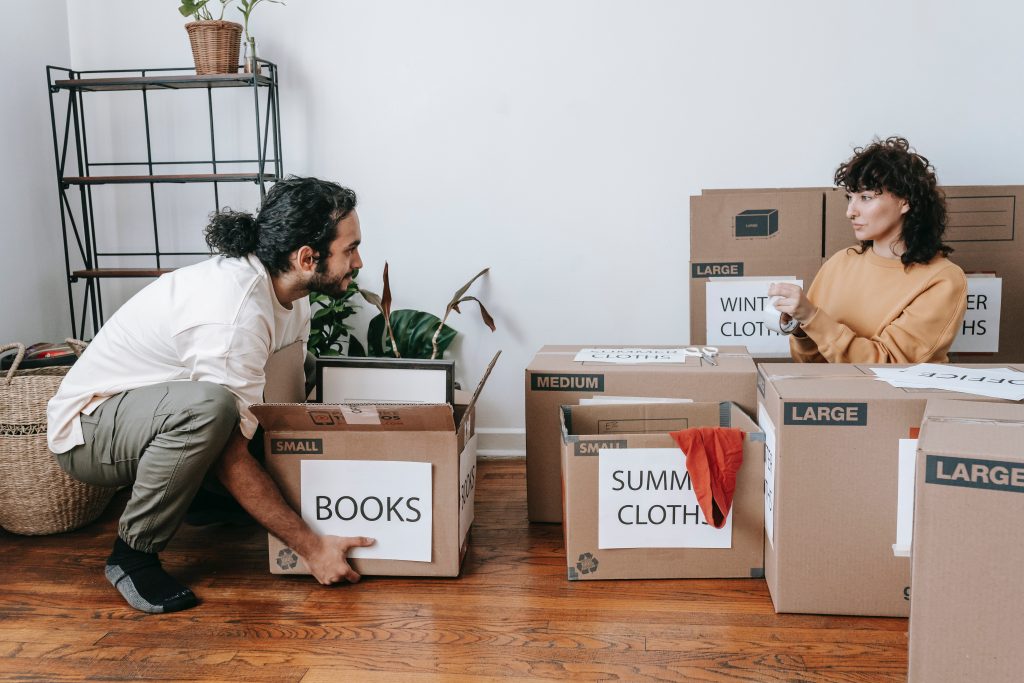 While it may be tempting to stack all of your boxes up in a random order, this can actually make things more difficult when you are unpacking at the other end! Make sure that everything is labelled so you know where each box should be stored.
Also, try to stack boxes in neat order, so they don't get damaged when transported from the old house to the new one. This will also help you out later on when unpacking! You can use coloured tape or stickers for this task and write labels directly onto your moving boxes with a marker pen.
Here are some more tips on Labelling Boxes For A House Move.
Tip #07: Hire A Removals Company To Transport Your Belongings
Most removal companies offer all-inclusive moving services, which means they will handle everything, including packing your belongings, loading them into the truck, and unloading them at the other end. This can be a great option if you are short on time or don't want to deal with the hassle of packing yourself.
Aside from ensuring you stay relaxed on moving day, you will also find that a removals company will provide you with extra peace of mind. After all, you don't want your belongings to get damaged during the move!
Check out WhatManAndVan's partner moving companies in London, Manchester, Liverpool, and many more locations across the UK.
Typically, a removal in Bristol might cost higher than a moving company in Birmingham as location tends to be a factor that affects the cost of removals. Meanwhile, here's a peek at How Much Removals Companies Cost.
Tip #08: Start The Entire Packing Process As Early As Possible
The earlier you start packing, the less stressful it will be! Make a plan for what needs to be packed and when, and then work your way through each part of the room. Doing this will help you to avoid any last-minute packing rush.
Always remember to start with the items you use the least. That way, you won't have to deal with having to rummage your boxes over and over during the entire packing process.
Tip #09: Remember To Stay Organised And Calm!
When packing your home office, it can be easy to get overwhelmed and stressed out. However, if you stay organised and work steadily through each item, the whole process will become much easier for you! Ensure that everything is packed securely so that nothing gets damaged during the move, and try to keep calm on moving day.
With a bit of preparation, you can ensure that your home office is packed in the most efficient way possible!
Ready to get a removals company? WhatManAndVan can provide you with the best selection of removal companies in your area today! Besides, you can always check out our moving quotes to get an idea of our offers!c
Compare Man with Van Companies Quotes
Get quotes quickly and easily from a removals near you.