A Guide On How To Unpack After Moving House
Often, when we think of moving house, we only think of the packing and the move itself. However, what many people fail to realise is the fact that moving house does not end with getting your belongings to your new home – unpacking is an equally important task.
Hence it is crucial that you learn how to unpack after moving house in a timely and efficient manner, as this will allow you the time and space required to settle into your new home.
The following blog post provides advice on how you can go about unpacking after moving house:
Post-Relocation Unpacking Tips
Create A Systematic Approach
When unpacking, it is best to create a systematic approach. This means that you will need to decide what goes where and how you will unpack each item. There are many different ways to go about this, but one way would be to start with the kitchen and the bedrooms before
Start With The Essentials
While it is best to pack these items last, you will also be better off unpacking your essentials first. After all, you will need to have some basic items in order to start living in your new home. That is why it is encouraged for you start unpacking these items on your first night at your new place. Essentials can include kitchen utensils and everyday dishes, beddings, fresh towels, dining room furniture, a couch and other furniture.
If you are moving with a pet, be sure to unpack its food and water bowls, as well as any toys or bedding it may require, first as well. This will give them the comfort and security they need in order to feel at ease.
Once you've unpacked your essentials, you may start unpacking less important but still necessary items. This could include all your clothes, your bathroom essentials, toilet paper, shower curtain, and any other items you may need on a day-to-day basis.
Unpack Least Important Items Last
Unpacking the less important items last will help to keep your stress levels down. This means that you can take your time with these items and not feel rushed. It is best to group these items together, as this will make them easier to find when you need them.
Take Your Time When Unpacking
When it comes to unpacking after moving house, one of the most common mistakes people make is trying to do too much at once. In order for this not to be the case, try and take your time when unpacking. This means that you should not rush through the process, but rather take your time to unpack each item properly.
Not only will this ensure that everything is organized and in its place, but it will also help to prevent any injuries or accidents from occurring.
Take The Time To Relax
While it can be tempting to complete the entire unpacking process in one sitting, it is important to take a break in between. This will allow you to rest and recharge, which is especially important if you have been moving for an extended period of time.
In addition, it is also crucial that you take some time to relax after arriving at your new home. This can include taking a walk around the neighbourhood or simply spending some time in your new environment.
This will help you to get used to the area and feel at ease with it, which can prevent any frustration or stress from occurring later on down the line.
Use A Moving Company To Help You Unpack After At The New House
While this is not always possible for everyone, using a removals company can make the unpacking after moving house process a lot easier. This is because they offer unpacking and furniture arrangement services as well! That means they will be able to transport all your belongings from one place to another, as well as unpack all the stuff you've brought over for you. You can even have them reassemble all the furniture you have!
Read about the services moving companies offer here.
In doing so, you will not have to worry about any heavy lifting or other strenuous tasks that may come with the relocation process and can instead focus on getting settled in your new home.
Have Members Of The Household Unpack Their Own Spaces
Even if you have a moving company help with unpacking after at the new house, it is still important that members of your household unpack their own spaces. This means each member should be responsible for unpacking their rooms and putting items in places where they know they can find them when needed.
Kids, especially, will find this helpful as they will feel more involved and likely be happier to unpack their own things. Since unpacking is a big part of the moving process, it may also help them get used to living in their new environment faster!
Need more tips on moving with kids in tow? Check this out!
This will not only ensure everything has been properly accounted for, but will also help to prevent any confusion or arguments from happening.
Use Labels To Identify The Contents Of Each Box And Where They Belong
When you first start packing your items for the move, make sure to label each box accordingly. This will not only help you when it comes time to unpack, but it will also make things a lot easier for anyone helping you out with the process.
In addition, if you are using a moving company, they will likely ask you to do this so that they can have a better idea of where everything needs to go.
It is also a good idea to mark the contents of each box on the outside as well, just in case it becomes damaged or lost along the way. This will help you to identify what is inside and ensure that nothing important is missing when you finally reach your destination.
Contact Specialists To Help With The Installation Of Your Appliances
When it comes time to unpack your appliances, it is best to contact specialists in order to have them installed correctly. This is especially important for things like your oven, dishwasher or washing machine. Doing these things on your own may lead to injuries or accidents so it is important to hire professionals who can handle them accordingly.
This will also ensure that everything functions properly and there are no issues with the appliances when they arrive. It also ensures that you do not damage anything in your new home, which could result in costly repairs!
Get Your Garage Clean and Ready For Use
Step 1: Start By Decluttering
The first thing you will need to do is declutter your belongings. This means getting rid of all the junk that has been accumulating over the years. If you haven't used something in a year or more, chances are you don't need it. So get rid of all that clutter.
If you are worried about getting rid of something, only to later find out that you need it, consider storing it in a self storage facility. That way, you can easily access it if you ever need it again.
The best part? It wouldn't be that much of a hassle, too! Once you've chosen a storage company that you can trust, you can simply choose a move-in date and have them pick up your packed belongings.
Alternatively, you may hire a moving company to pack and transport your belongings to the storage facility. This is the best option for you, especially if you need to store large items like furniture, appliances, and even small vehicles.
Meanwhile, donate, recycle, or sell any items that you no longer need or want. Once you have decluttered your garage, you will be surprised at how much space you actually have.
Step 2: Deep Clean The Garage Space
Next, you must make sure to clean every nook and cranny of your garage. This is important because you want to create a clean and safe environment, especially if you will be using the space for other purposes.
To deep clean your garage, start by sweeping and mopping the garage floor. If there are any oil spills or grease stains, make sure to treat them accordingly. You should also wash the garage walls and ceiling to remove any cobwebs or dirt.
Wipe down your garage door and windows, to make sure they are clean and free of fingerprints. Don't forget to also dust and clean any shelves, cabinets, or storage containers in the garage. And if you have a roll-up garage door, make sure to clean the tracks as well. Otherwise, your door will not be able to open and close properly.
Step 3: Fix It Up
The next step would be to make sure everything is ready for occupancy in your clean garage. After all, you will want your garage to be the perfect space for you, whatever you wish to do with it. So, make sure to do any repairs that are needed.
For example, you will want to patch up any cracks in the walls or ceiling. You will also want to make sure the electrical system is in working order to avoid any issues once your space is all set up. If you plan on using your garage as a bedroom, office, or game room, then you will need to insulate the space to make it more comfortable, especially when you are dealing with temperature fluctuations. Also, think about the soundproofing and flooring to ensure it is the perfect place, whatever you wish to do with it.
You should also consider adding some shelving, cabinets, or storage containers, to help you keep the space organized. If you are planning on using your garage as a workspace, then you might want to install some additional lighting fixtures as well.
Step 4: Make It Your Own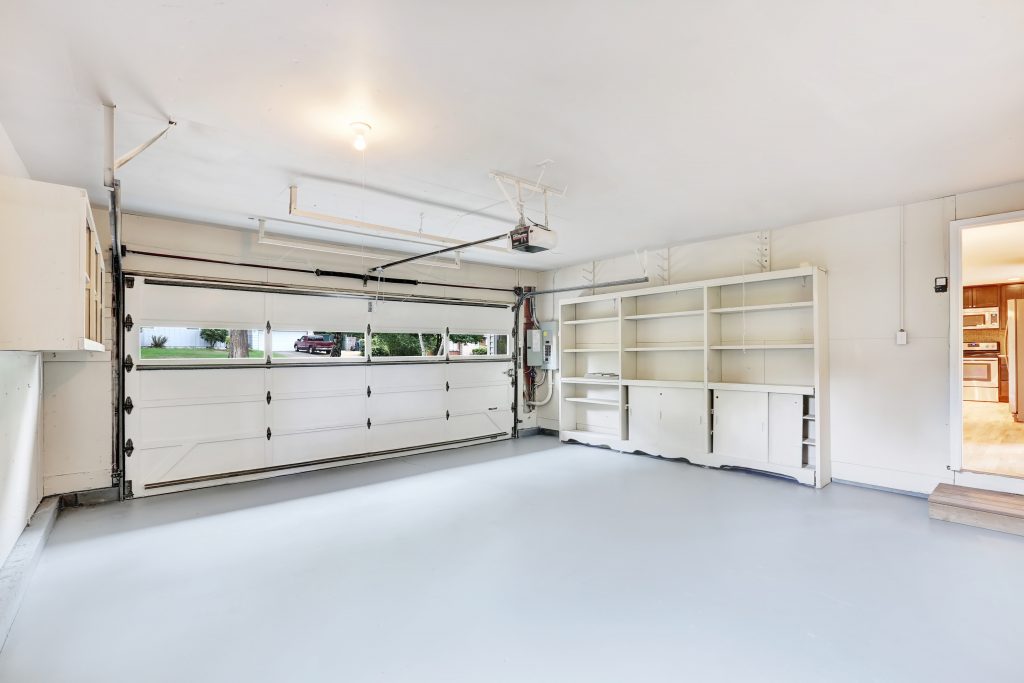 Now that your garage is all cleaned up and fixed up, it's time to make it your own. Determine how exactly you want to use the space and what kind of atmosphere you want to create.
Do you want your garage to be a place where you can work on your car or fix things around the house? Or do you want it to be a place where you can hang out with your friends or family, play some games, or watch movies?
From there, you can determine what kind of furnishing, equipment, and other items you will need to get for the space.
Other Things To Do After You've Moved To Your New Home
Make Sure You've Notified The Necessary People Of Your Change In Address
After moving, the most important thing to do is to make sure you've notified all relevant people of the changes. Remember to inform your family members, friends, email contacts, and even professional networks.
Make a list of who needs to be informed about these changes, then send out emails or give them a phone call. It would be best to stop by in person if they live nearby, so they get the full message instead of just an email.
You will also want to make sure you change your address on all your accounts with banks, credit card companies, the home security system, the social security office, and the power company. The same goes for your driver's license.
Also, if you need a new health care provider, make sure to have your medical records transferred over from your former health care providers, so you don't have to go over the same information again with your new doctor. Also give your utility companies as much notice as possible, so that everything is ready at your noew place by your moving date. Lastly, make sure to notify postal services of your new address and have your mail redirected.
Let People Know You Will Be Busy In The Aftermath Of Relocation
You can never be too sure who may try to call, visit, or even email during this time. Therefore it's best to let those closest to you know that now is not a good time to make contact, or you'll notify them as soon as possible.
Take the time to adjust to your new surroundings and start this list of things to do after relocation. These tasks may be easier said than done, but at the end of the day, they will allow you more time for relaxation and becoming acclimated to your new environment.
Learn The Local Area
The next thing to do after moving is learn about the local area you are living in. The sooner you familiarize yourself with where things are located, the better off you'll be. If there are important places for you to visit, such as the supermarket or your post office, make it a point to memorize these locations on your first day.
If you're driving in your new city, get on Google Maps and familiarize yourself with where everything is. You might also consider talking to trusted neighbours about some of the best landmarks to remember.
Find The Local Supermarket & Grocery Stores
After familiarizing yourself with the local area, you'll want to find your nearest supermarket and grocery store. This is important because, if you're like most people, you don't want to spend an hour or two driving around searching for a particular item.
Finding supermarkets and grocery stores near your home shouldn't take too long if you stay diligent. You might even consider asking your neighbours for some advice on good supermarkets to go to. They'll be more than happy to tell you about their local shops.
Know Your Neighbours
It's finally time to get out there and meet people! When first arriving at a new place, it can be challenging to meet neighbours or friends. Instead of being a 'lone' newcomer, get out there and meet people.
Your new neighbors are an excellent way to learn more about the area you're living in – they might even have some tips on navigating around or finding your nearest supermarket. If nothing else, having a chat is always a good thing.
As an added bonus, knowing your neighbours will give you a sense of security. Whether you're moving into a new city or just a different building, having familiar faces around can make any move feel more safe and secure.
Make Your Home Feel Like Home
While the initial settling-in period is vital to get used to your surroundings, it's also vital to help decorate your new home to make it feel more like your own. Buy some furniture, pick out an indoor plant or two – any variety of philodendron is a great choice or pick up some beddings and some cheap blinds or curtains. If you have a living room, maybe add some of your favourite art pieces or furniture that give the area a personal touch. You could even paint the interior of the house to match your style.
On top of this, putting up family photos is an excellent way for you to connect with any relatives that live in the vicinity. Having these sorts of connections at home is crucial because it helps remind you that you have a support system in your new city while you're far from home.
Re-Establish The Routine
Once you've gotten settled into your new place, it's time to re-establish the routine. This is important because daily tasks become exhausting and almost impossible to do without a set schedule for getting things done.
Whether this means going back to school or work every weekday at a certain time or taking the young ones to daycare or school at a certain time, you need to make sure your schedule is set. Without doing this, tasks that should take an hour or two can become full days of stress and chaos.
On top of this, having a routine will help get your children off on the right track for their studies. While some children are more naturally inclined to be conscientious students, you are setting them up for future success by getting into a particular school or daycare schedule.
Write A Review For Your Man and Van or Moving Company
If you used a company to move your belongings, make sure to write a review for them. Even if the move was terrible or went beyond their control, it's always good karma to give any service providers you might have met during your move some positive feedback.
Even if there were two moving companies that moved your items and one did an excellent job, write a review for that company because it's always nice to give credit where credit is due.
Instead of taking all of your used boxes and packing materials to a garbage dump, why not ask if recycling services are offered in your area? Many places have a recycling service for cardboard and plastic that can reduce waste and help the environment.
Responsible disposal of these sorts of materials is important to maintaining a clean community. Plus, getting rid of packing materials will give you more space for activities around the house – something any family would appreciate.
Final Thoughts
By following these tips, you should be able to successfully complete the unpacking process in a stress-free and timely manner. This will help you get settled into your new home more easily and prevent any frustration or stress from occurring later on down the line!
Compare Man with Van Companies Quotes
Get quotes quickly and easily from a removals near you.