Moving And Packing Tips For When You Are Relocating To A New City
For the most part, moving to a new city is quite similar to any other home relocation. However, it can be pretty challenging. It's nothing short of overwhelming, even. After all, aside from the typical stuff like packing and moving your items into your new home, there are several things you must also remember to do.
You'll be glad to know, though, that it's not entirely impossible! In fact, some planning and preparation may just go a long way! To give you a headstart, we have come up with a list of tips that you may refer to during the entire moving process.
Top Tips For People Moving To A New City
Here are nine sure-fire tips you can use to ensure an excellent moving experience.
Research On Your New City
The first thing you must do is find out everything you can about your new city. This includes gathering information on rent prices, average commute times, and the weather. It's also good to know about your new neighbourhood as well!
If you are moving with kids, you must look into the school districts in your city. This will help you find the best schools for your children and plan accordingly. Contact all of the nearby schools ahead of time so that you can make an informed decision on which one is right for your kids. If you've got kids that are not yet of school age, it would also be best to look into your options for childcare in the area. This is something you wouldn't want to put off, especially if you are starting work immediately.
It will also be wise for you to look into current events and trends in the area to better prepare yourself for what is about to come. Lastly, if you are planning an international move and are moving to a new city in another country, you will need to do extensive research on your new home's culture, customs, and laws.
To make the process of researching your new city easier, WhatManAndVan has started a collection of City Guides for the UK's hottest moving destinations. Check them out here!
Make Sure To Plan Every Aspect Of Your Move
As already mentioned, moving home is already a challenging feat. Hence, you must make sure to plan out every aspect of your move. This includes figuring out what to put in your new home and taking care of the things you need to do before and after moving. You may do this by using a Moving House Checklist.
If it's something that needs to be done before you move, make sure there is a plan for its delivery. For example, if you are giving away items or selling them on craigslist, make sure to do this before you pack them up and move.
Planning for things like insurance, health care facilities, pet transport (if applicable), securing the necessary permits, legally changing your address, redirecting mail, and schools enrolment documentation ahead of time will also save you a lot of trouble in the long run.
Moving can also be quite stressful on your mental health, so it is vital to take care of yourself before and after the move as well! Consider things like booking a massage or getting some help with packing up your home.
Mentally planning all that can be exhausting. That is why it would be much more efficient and practical for you to use a moving house checklist instead. This checklist collates all the tasks and errands one must complete throughout the process, including moving day.
If you want to, feel free to include your budget and a breakdown of all your moving costs as well.
Declutter Your Belongings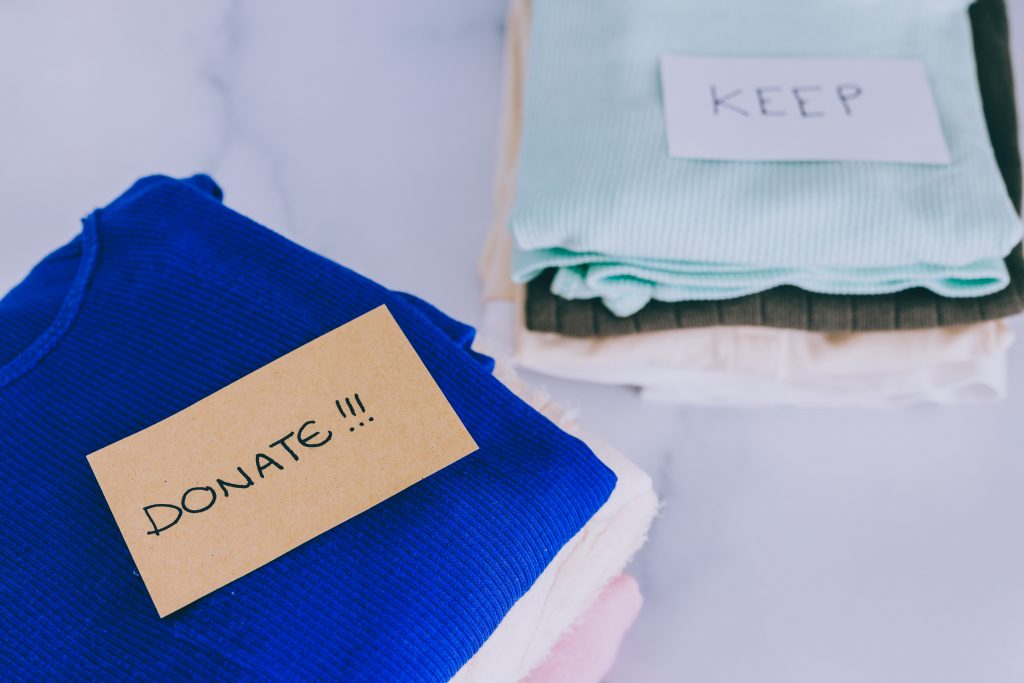 Next, you must declutter your belongings. This is so important because it will make the packing process much easier for you! It's best to go through each room and decide which items should stay behind or be given away.
If you are unsure about where to start, you can always use this simple formula. Ask yourself the following questions:
Do I need it?
Is there a time when I will need it again?
Can someone else do better with it than me?
Is this item even still usable?
With these questions answered, you should decide which items should stay and which ones you can get rid of.
Pack Your Belongings Ahead Of Time
Once you have decluttered your belongings, it is time to start packing. Ensure that the items are correctly organised in packing boxes or crates so that they end up at their respective destinations when unloading them from the truck.
Also, remember that you must give yourself more than enough time to carefully pack your stuff while creating your moving schedule. Therefore, you must begin packing up your belongings as early as possible. Anywhere between two weeks to a month before moving day should be enough, depending on how many bedrooms you have, the size of your home, and how much stuff you have lying around.
Make Sure To Use The Right Packing Materials
You will also want to make sure that you purchase packing materials that are of high quality (usually bubble wrap included) to keep your valuables safe from harm. Packing too many things into a box while using budget-friendly supplies may seem like an efficient way of packing, but it will only lead to disaster. These types of packing materials will be a bit more expensive, but they will last longer and keep your items safe from damage.
If you are looking to save some money on packing materials, you may also look into alternative packing supplies for smaller and less fragile items. Some examples of this would be using linens, blankets, and towels in place of wrapping paper, storing hanging garments in garment bags, packing your clothing in luggage and larger bags rather than in boxes, and using recyclable materials like newspapers, paper bags, and even old cardboard pieces as extra protection for your items.
Meanwhile, if you are worried about spending too much money on packing supplies, you may also look into acquiring free moving boxes and using your budget for other packing materials like tape, bubble wrap, packing paper, and many more.
Properly Label Your Removals Boxes
Lastly, before sending off your packed moving boxes for transport, you will want to make sure they are appropriately labelled. Aside from the room in the house where it belongs, you'll also want to indicate the contents of every box.
Using "Fragile" and "This Side Up" labels are also important when you have boxes containing breakable and valuable items in them.
If you are looking for a place to purchase materials for your packing needs, you may check out this box and supply shop.
Consider Hiring A Packing Company
Meanwhile, if you're in a rush and wish to complete the process of packing as quickly as possible, you may also look into hiring a company that offers a professional packing service. Professional packers can provide their clients with a full packing service, which means they will handle everything from purchasing the packing supplies to labelling your removals boxes. Because of their reliable packing skills and experience, you can rest assured knowing your chosen packing team will safely pack your stuff for the big move.
Look For A Reliable Moving Service Provider To Move Your Belongings
Once your belongings are packed, you will also need the right person or company to transport them. This is where home removals services come in. You may, of course, choose to transport everything yourself, but this isn't as practical and cost-efficient as you think.
This is because while you'll be saving on the upfront costs, there are many other things that you will have to account for when you are planning to move your belongings by yourself. This includes the price of petrol for the removal van and sometimes, the repair or the replacement of items that get damaged with you behind the wheel. After all, there will be no one to take responsibility for these repair or replacement costs if you are the one who did it.
This is when a professional removals service provider comes in! They will be able to help you move and carry your belongings to your new home in one piece and without any costly mishaps.
Many removals companies even provide comprehensive or all-inclusive moving services, including all aspects of moving house, even the most stressful parts! Often, this service covers packing services, the use of their storage facilities if needed, and even an unpacking service for when you arrive at the new place! That means you won't have to hire multiple companies to provide you with professional packing and removals services.
If you are looking for a reliable removals service provider, we recommend that you seek the help of a WhatManAndVan partner. They are armed with decades of experience in the removals industry and held up to a standard by groups like the British Association of Removers, so you can be sure that they will do an excellent job when it comes to transporting your belongings for you.
Are you worried about the cost of such services? Don't be! After all, removals services are computed only based on factors surrounding your move. Often, these factors include the size of your home, how many bedrooms you have, the distance of the move, and any additional services you choose to avail of.
Insure Your Belongings
And if you are worried about the security of your items in transit, don't be! Moving companies provide a range of insurance services to ensure that your belongings will arrive safely at their destination.
These vary from comprehensive coverages for accidental damage and theft during transport as well as compensation for delays or losses incurred on the way to your new home.
You may also purchase additional full insurance coverage for your belongings to protect them against damage and loss due to any external force or event.
Socialise
Before you know it, your big day will finally come! But before you can celebrate the happiness of a new life in a whole new city. The biggest of which is settling in. Although it seems simple, it isn't as easy as it looks.
Hence, upon moving into your new city, you must also make sure that you are networking with the people around your neighbourhood. This way, it will be easier for you to find a new job or get help if you need it.
Moreover, this will make it much easier for you to make friends in a new city.
So, how are you supposed to go about this? Well, it could be as simple as asking the person living right next door for help with your removals! They will know all the shortcuts and places where there may be hiring vacancies or other opportunities that they can introduce you to.
This way, when the time comes, and you find yourself without someone to call up every once in a while, or when there's nothing good on TV, you'll have people who can help keep your spirits lifted!
Be Patient With Yourself
We completely understand how daunting moving into a new city could be. And despite the tips on this list, it can still prove to be a complicated process. So, if you find yourself struggling with your move even after hiring professional packers and movers or doing exactly what's written above, don't feel too bad!
Just remember that the moving process is different for everyone, so other techniques may be better suited for you. Moreover, there will always be someone who can provide you with support and assistance along the way.
Final Thoughts
So, are you ready to move to your new city? If so, do not forget to check out our many city guides here! Meanwhile, if you're planning to move abroad, here is a good read on international removals.
For the most part, moving to a new city is quite similar to any other home relocation. However, it can be pretty challenging. It's nothing short of overwhelming, even. After all, aside from the typical stuff like packing and moving your items into your new home, there are several things you must also remember to do.
You'll be glad to know, though, that it's not entirely impossible! In fact, some planning and preparation may just go a long way! To give you a headstart, we have come up with a list of tips that you may refer to during the entire moving process.
Compare Man with Van Companies Quotes
Get quotes quickly and easily from a removals near you.