Moving To Bristol: A Quick Relocation Guide
In recent years, Bristol has become a popular destination for students and young professionals. With a diverse culture, great nightlife and easy access to London (just one hour on the train), it's not surprising that this vibrant city is becoming such an attractive place to live.
If you're planning on moving here soon, the first thing you must do is find out every piece of vital information about your new home city and surrounding area. Doing so will help you become more comfortable, at ease, and confident about your upcoming move to Bristol.
This blog post will introduce you to Bristol, provide helpful tips and give advice on how best to prepare for your move here. Ready? Let's get started!
Moving To Bristol Cheat Sheet
Bristol is located in South West England, just an hour-long train ride from London. It has a rich history that dates back hundreds of years and is home to the world-famous BBC (British Broadcasting Company).
Bristol has a population of over 400,000 and is made up of several distinct neighbourhoods, each with its own unique history and culture. The most well-known areas in the city are Clifton (posh), Redcliffe (young professionals) and Stokes Croft (artists).
The city of Bristol is divided into two parts: the historic and wealthy area on top of a hill ( and the more modern part on the Bristol harbourside. Both areas are filled with charming pubs, cafes, restaurants and boutiques – many selling vintage items!
Here are a few more things you should know when you are relocating to Bristol:
Living Costs in Bristol
Bristol is one of the more expensive cities in England. So, if you are moving here for work, your average salary will likely be higher than it would if you were living elsewhere in Britain.
If money isn't an issue and comfort, safety and convenience matter most to you, then moving to Bristol may be a good decision for you. Students may have a hard time finding affordable housing or can afford amenities, but there are still plenty of cheap student accommodation options available for those who look.
According to Numbeo, living costs in the Bristol area are only about 18.52% lower than in London, with an average of £665.35 for an individual and £2,315.19 for a household of four.
Essential goods and restaurant meals are also generally much more affordable in the area, as opposed to other parts of the UK. Here is a peek at the average price of some of these goods:
Meal At An Inexpensive Restaurant – £15.00
Meal For 2 At A Mid-Range Restaurant – £55.00
Meal At A Fast Food Chain – £6.50
Milk – £0.94/litre
1 Dozen Eggs – £1.84
Chicken – £5.25/kilo
Beef – £6.75/kilo
Banana – £1.17/kilo
Potato – £1.06/kilo
Water – £0.94
The Bristol Job Market
Bristol's thriving economy is home to companies in various fields, including small businesses in the creative media, electronics, aerospace, and financial service sectors. This, in turn, means that there are plenty of jobs available in the city, but competition may be tough.
If you are moving here intending to look for job opportunities only when you get there, you must do your research before applying. Find out which companies have jobs available and what skills they might be looking for so that you can tailor your application towards the specific job.
Housing In Bristol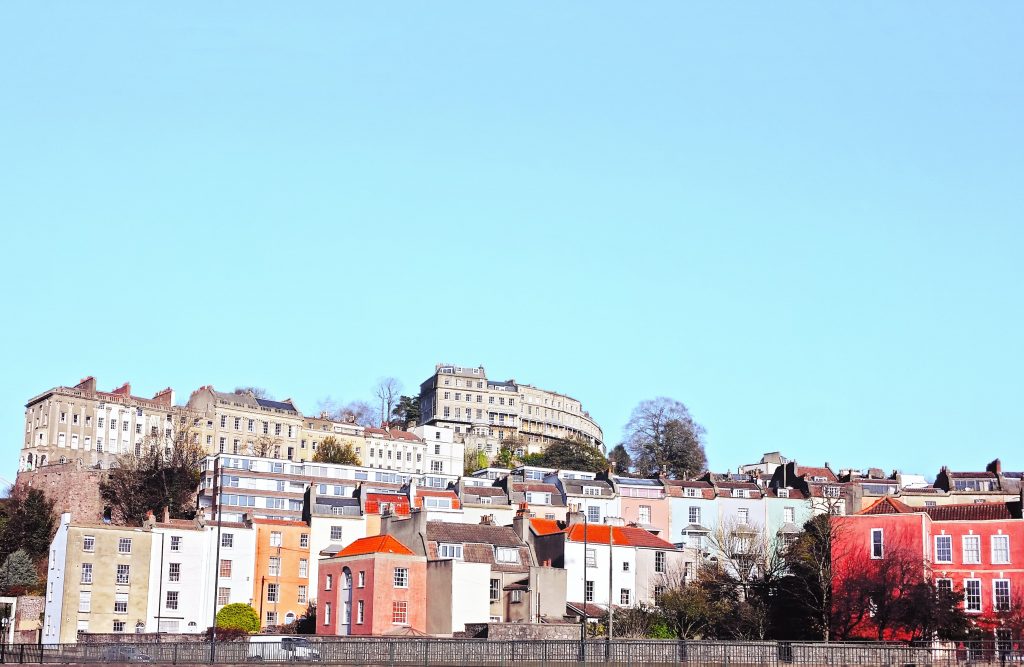 One of the first things you must find upon moving to Bristol is a place to live. The housing market in Bristol can be very competitive, so you must have all the information possible about what is available and where before going out hunting for your new home.
The prices of houses vary wildly depending on which neighbourhood (and how posh!) you're looking at living in. If money isn't an issue, you can find a lovely apartment in the city centre, but if budget is your concern and you're looking to live somewhere less expensive, there are still options available in cheaper areas.
Many students also choose to rent rooms from people living in their family homes or houses they no longer need – it's very common here! It's an easy way to get your foot in the door of Bristol housing without having too much cash upfront.
Here's a list of the most ideal places to live in Bristol:
Easton
A large student population means there are lots of cheap properties in Easton. It is convenient to amenities and the university, but be aware that it isn't a very safe area after dark.
Ashton Vale
This suburb has become increasingly popular with young professionals due to its proximity to the harbour and the high street.
Montpelier
This area is ideal for those looking to live in a more affordable neighbourhood that still has easy access to the Bristol city centre. It's best known for its large student population, lively social scene and hipster vibe.
Cotham
Another great place where you'll find primarily students and young professionals. It's a safe area, but it also doesn't have as many amenities or transport links as other Bristol neighbourhoods like Montpelier does.
Kingsdown
There are some charming properties in this area, but also a lot of student housing. It's pretty close to everything you'll need, and there are some gorgeous parks nearby too!
Clifton Village
Homes here can be pretty expensive, but it's worth paying a little more if you want to be living in one of the most desirable parts of Bristol. You will find gorgeous architecture and many famous historical sites. Many people choose to rent a flat or apartment in this area because of its beautiful views and proximity to the Clifton Suspension Bridge.
Greenbank
This area is considered good value for money. It is very popular with young professionals looking for somewhere quiet without having too much distance from everything else that happens around here.
Bedminster
This neighbourhood has become increasingly popular with young professionals due to its proximity to the high street and other local amenities. It's also home to Bedminster Down School, which boasts impressive exam results!
If you are looking for housing prices in Bristol, the average rent prices are about £1,428/per month. Meanwhile, average property prices run at about £394,172.
Bristol Council Taxes
Just as in most cities in the UK, you will be required to pay council tax in Bristol. Council taxes are the same throughout the city and range in price depending on where you live.
Moreover, relocating to Bristol means that you'll be dealing with the Bristol city council. You can learn more about what they do here on their website, but if you're interested in finding out how much your taxes will cost, check out this page for full details of local rates and holidays!
Public Transportation in Bristol
Bristol has a well-developed public transportation system, which can make your commute a breeze! Many bus lines and even more taxi companies service the city, so getting around is pretty straightforward. It's also very common for residents to bike or walk everywhere, so if you're moving to Bristol, be sure you get a bike and some comfy walking shoes.
There are also two train stations, a central bus station and two ferry terminals that service the city. It's very easy to get out of Bristol – with so many transportation options, it won't be long until you're on your way elsewhere, whether it is by train or boat!
Meanwhile, if you are looking to travel out of Bristol to other major cities, you'll be glad to know that there are plenty of options! National Express coaches travel directly from Bristol to London, and there is a bus route that travels through Bath, Swindon, and Oxford.
The Bristol International Airport is also located about 20 minutes south of the city. It's not a large airport, but there are some direct flights to various destinations including London, Paris and Amsterdam! Bristol City is one of many cities in the UK with an international airport. You'll be able to travel directly from here on several airlines like Flybe or British Airways!
Culture and Diversity In The City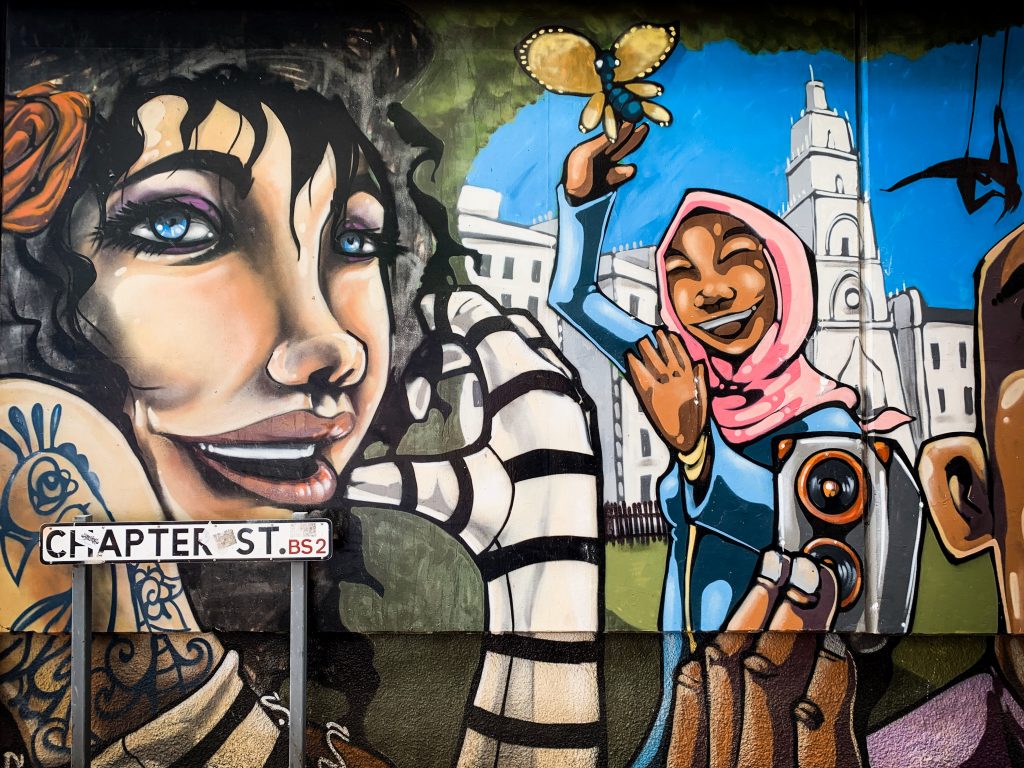 Much like Bristol's economy, the city's population is very diverse. There are many languages spoken in Bristol, and there exists an established immigrant community that welcomes newcomers with open arms! This Great Britain city also hosts numerous music festivals throughout the summer months for residents to enjoy.
Bristol is full of life and culture, making it a great place to raise a family or settle down. If you're looking for something exciting that the whole city can enjoy together as one big community – then Bristol has lots to offer!
The arts are also very much embraced in a city like Bristol. After all, the notable figure and famed graffiti artist Banksy is believed to have originated from. Aside from the anonymous artist, Bristol is also home to other prominent figures in the creative space, including fashion designer Paul Smith and artist Tracey Emin.
Surrounded by gorgeous historical structures, parks, green spaces, natural beauty, Bristol is truly a gem of the UK! In fact, people call it the European Green Capital because of its commitment to green initiatives and sustainability.
The food scene in Bristol is also to die for! There are plenty of delicious restaurants, cafes and pubs throughout the city. This city is also home to a thriving nightlife scene where people go out for drinks or dancing at various bars around town!
Weather in Bristol
The weather in Bristol is, well… unpredictable. It's not very common for the city to get a lot of rainfall or snowfall, but it can happen! So, if you're moving to Bristol and hate unpredictable seasons, be sure to pack an umbrella and a warm jacket.
No matter what time of year it is, the weather in Bristol can get pretty chilly. During the winter months, temperatures hover around freezing and rarely rise above 0 degrees celsius. Summers are warm but not too hot – perfect for exploring all that this city has to offer!
Education In Bristol
If you are moving to Bristol with your family and need to find a good school for your children, then you're in luck! From the University of Bristol to the Bristol Grammar School, there are several prestigious universities and excellent schools that have a great reputation in the city.
The educational opportunities in Bristol are endless, and there is no shortage of them – which means that you can find a school for your children regardless of what their needs may be.
Bristol also has several public schools, including state-funded grammar schools and academies as well as private institutions. This allows parents to choose the best educational institution for their children based on their academic performance.
Entertainment In Bristol
Bristol has plenty to offer for its residents and visitors alike – whether you're a party animal or prefer art galleries, there is something out there that will interest you! There are also several parks where people can go if they want some time outdoors without travelling too far from the city centre.
Countless music festivals take place in Bristol, as well as several galleries and museums. Whether you like the theatre, art or history, Bristol will not disappoint – there is something for everyone here!
Bristol has a lot to offer its residents, and we haven't even scratched the surface of all the things to do and see. If you're moving to Bristol and are worried about not having enough things to do or places to go, don't be! The city is full of life and excitement – it's an excellent place for anyone who wants more from their home.
Some places you will want to check out here are:
St Nicholas Market
It is Europe's largest outdoor market and a must-see for anyone visiting or moving to Bristol! You can find anything here from fresh produce to jewellery, clothing and antiques. The atmosphere is electric, and it gives you a taste of what this city has to offer visitors.
Aside from St. Nick's Market, the shopping centres you will want to visit in Bristol are the Cabot Circus Shopping Centre, Broadmead Shopping Centre and the Harbourside.
There are also plenty of markets to explore – including St Nicholas Market, The Exchange Arcade and St Thomas's market.
The Downs And Blaise Castle
The Downs is a beautiful park in Bristol with lots of open space and opportunities for recreation. The Blaise Castle Estate, located nearby, has an old castle (yes, you read that right!) which includes trails through the surrounding forested area where people like to go running or horseback riding. There are also several cafes within walking distance of the castle!
Bristol Harbour Festival And The SS Great Britain
The Bristol harbour festival is a yearly event that includes live music, street performances and fireworks. It's one of those events where you can spend all day walking around or seeing everything there is to see in just two hours – it depends on what strikes your fancy!
The SS Great Britain is an old ship that was used for commercial purposes in the 19th century. It now acts as a museum with many interactive exhibits, including areas where you can dress up as sailors and steer the boat!
Bristol Zoo Gardens And Ashton Court Estate
If you're moving to Bristol with your family, then these are two great places to take your kids! The Bristol zoo gardens has over 500 different types of animals, and the Ashton court estate is a large park with lots of trails for biking, hiking or riding horses.
Several museums throughout the city such as M Shed (the Museum of Bristol) and MShed museum (the maritime heritage centre). There's something for everyone here!
Clifton Suspension Bridge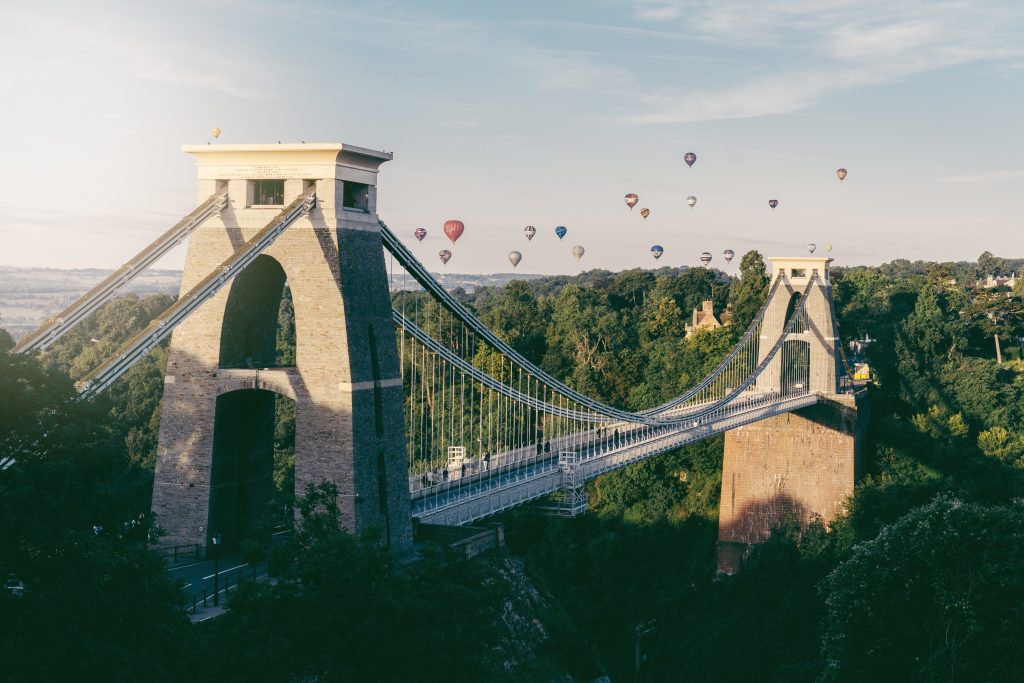 This is a famous landmark in Bristol that connects the city to Leigh Woods on the other side of the river. It's one of those things you have to do when visiting or living here, and there are several shops nearby where you can purchase souvenirs!
Cabot Tower And Clifton Observatory
Located near each other, Cabot tower and Clifton observatory offer great views of the surrounding area. However, be warned: if you suffer from a fear of heights, this may not be a good idea!
Bristol has so much to do that it would take several blog posts to cover everything here in detail. However, this quick guide should get you started with your relocation. Several websites have more information about the city and all it has to offer visitors or residents.
Bristol Museum And Art Gallery
This is an excellent museum for art enthusiasts or anyone who enjoys history. It contains several galleries and the Bristol fine arts collection. This includes paintings, drawings, prints and sculptures from all different eras of British history! The exhibits are constantly changing, so there's something new to see every time you visit this fantastic place. There are also interactive exhibits where you can play with virtual reality or use your hands to create art!
Moving To Bristol Tips
Now that you've got an idea of what to expect when you move to this great city, here are a few things that will hopefully make your relocation go as smoothly as possible:
First, research the different neighbourhoods in Bristol to find out which one is right for you. There are many websites with information about all of these communities, including crime rates and average salary ranges.
It would be best if you also got a good idea of what your budget will be like before moving here since this can affect where you end up living and the kinds of jobs you can apply for. If money is tight, several affordable housing options are available, including flats and houses that cost less than £50K or even £20K!
Consider hiring a Bristol removals company or a Man and Van to move your belongings. Such companies can provide you with various services, including packing, transportation and storage facilities. You can also ask friends or family to help you move if there are enough of them available! Just make sure to get a quote from different movers in Bristol so you can compare the costs and see what's available near you! To make this task easier, you may use WhatManandVan to find and compare the best moving companies in Bristol with just a few clicks! WhatManandVan also provides efficient and affordable man and van services in London, Manchester, Liverpool, Leicester, and across the UK. They offer a range of services, including house and office removals, transportation of furniture and large items, and student moves.
Make sure you have enough time to move. Moving can take several days, so it's best if you give yourself at least a week, but ideally, two weeks or more depending on how much stuff you have!
See to it that you have filed and secured all the necessary permits and paperwork before you move. This will ensure that you don't have any problems with the local authorities later on!
Don't forget to sort out your utilities and make sure everything is up and running before the big move. Also, make sure to sort out your internet connection before moving day since it can be challenging to find a provider once you've already moved in! There are several options available, so try and choose one that fits within your budget.
If possible, get rid of your clutter before the actual move. That way, you won't have to worry about it during the move, and you can focus on getting all your belongings safely into a new home.
And finally, make sure that everyone in your household knows what to do when moving day arrives! Remind them of where they need to go and how much time they'll have for specific tasks, so nothing gets left behind.
Compare Man with Van Companies Quotes
Get quotes quickly and easily from a removals near you.
Final Thoughts
Moving to Bristol is a fantastic experience that can lead to amazing opportunities. In this fun city, you'll be able to explore new places, meet lots of interesting people and have an overall great time!
Bristol has so much to offer visitors or residents. This quick guide should help you start your relocation, but several other resources are available if you wish to find more. To begin with, do check out the Bristol City Council website.
Meanwhile, if you are still on the lookout for more moving tips and information, WhatManAndVan has a great range of articles and guides to help you with your relocation. There's something for everyone, so be sure to check them out today!
Frequently Asked Questions About Moving To Bristol
Relocating to a new city comes with its own set of challenges and curiosities. Whether you're drawn to Bristol's rich history, its bustling cultural scene, or its promising job opportunities, it's natural to have questions about making the shift. We've compiled a list of frequently asked questions to help you navigate the move and get to know Bristol a bit better. From the city's main attractions to our specific van services catering to London locales, here's what you need to know:
Bristol is a vibrant city with a rich maritime history, diverse culture, and numerous entertainment options. It offers a mix of historic architecture and modern developments, making it a sought-after destination for both residents and tourists.
Some of the most popular attractions in Bristol include the Clifton Suspension Bridge, SS Great Britain, Bristol Museum & Art Gallery, and Bristol Zoo Gardens.
Absolutely! Bristol has a variety of family-friendly attractions, parks, and excellent educational institutions, making it a great choice for families looking to relocate.
While Bristol is more affordable than cities like London, it is considered one of the more expensive cities in the West of England. However, the quality of life and the amenities available often justify the cost.
Planning in advance, decluttering before you move, and hiring a reputable moving service like ours can significantly make your relocation to Bristol smoother and stress-free.
Bristol boasts a thriving economy with job opportunities in sectors like aerospace, electronics, creative media, and finance.
Yes, at WhatManandVan, we always match users with multiple companies. This ensures you receive a range of quotes, allowing you to compare prices and services to make the best decision based on your requirements and budget.
Compare Man with Van Companies Quotes
Get quotes quickly and easily from a removals near you.